Average reading time: 1 minute 45 seconds
I've just finished planning my day over a fantastic coffee in the café next to my office.
In my moments of self-doubt (we all have them!) I sometimes think this is an expensive indulgence in terms of time and money. My inner saboteur tells me that I really should be getting on and doing stuff!
But the leader in me knows that this isn't true.
The reality is that the 20 minutes spent on reflection and planning, coupled with  £2.90 for the coffee, are hugely valuable investments that set me up to succeed each day.
But that's not why I'm writing this piece…
This is a deconstruction of high performance inspired by my local coffee shop, Fred and Ginger.
In coffee shop terms, they are truly world-class. But why is that?
They simply do the basics brilliantly well, with ruthless consistency.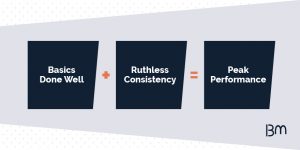 And that leads to truly outstanding results.
In their case, it leads to loyal customers, which is what every café, restaurant or retailer wants, right?
You might have the hippest looking coffee shop coupled with some super-cool Instagram posts, but if your coffee sucks, you're going to be in trouble. And if the café and toilets are stinking, you're dead in the water!
If you're in the coffee business, you've got to do the basics well.
You've got to make great coffee.
But say you've got four baristas. If three are exceptional and one's not quite so good, you're still in trouble.
You've got to do the basics brilliantly well, with ruthless consistency if you want sustained peak performance.
What are the basics that Fred and Ginger do so well?
In my view they do three, mission-critical things:
They make truly outstanding coffee. Consistently.
The coffee shop looks cool but most importantly it is always immaculately clean.
The team are super-friendly, warm and inviting. Consistently.
So what about you?
What are the mission-critical basics that you must do with ruthless consistency?
What are they for you as a leader?
What are they for your team?
What are they for your business?
Please add your thoughts in the comments below, I'd love to hear more about your basics!
If you want to find out how I can help you and your team, schedule a free call here or email me at chat@ben-morton.com