Spring Cleaning for Leaders
The days are getting longer, new leaves are starting to grow, and bulbs are emerging, all signs that Spring is finally here. It's a fresh start for nature, so perhaps we should pay attention and do the same.
Over the past three months, much clutter will have built up in our homes, workspaces, and brains! So now is the perfect time for a bit of spring cleaning.
This isn't just an exercise for the house-proud and uber-organized, though. It's a valuable task for each and every one of us.
A study by the Princetown Neuroscience Institute found that people are more stressed, distracted, and less productive in disorganized spaces.
Another study by the University of Southern California suggests clutter can be visually distracting, too. These distractions serve as nagging reminders of incomplete jobs and chores undone, which prevent us from relaxing at the end of the working day.
Whether on your pc or desk, in your home or car,  clutter is clutter. And this clutter can have a significant impact on our effectiveness as a leader.
Here are a few examples to consider.
Visual Overload
Our brains have a limited capacity for processing information. Looking at too many things at once (or too much clutter) –  overloads the visual cortex.
This reduces the brain's ability to focus, process information, and make decisions; some of the key things we are paid to do as leaders.
A clean and organized environment, therefore, means that we can process information differently because there is less 'visual noise' for our brain to contend with.
Stress
Clutter can trigger the stress hormone cortisol, which increases tension and anxiety.
This stress can trigger a series of unhelpful coping strategies that quickly form habits. It's amazing how we humans tend to have Velcro for the bad habits and Teflon for the good ones!
More often than not, it starts with poor food choices, which cause our energy levels to spike while leaving us with an overarching sense of tiredness.
As a result, we aren't motivated to exercise, so we have a few glasses of our favourite tipple while staying up to binge-watch another TV show.
This, in turn, means we do not get enough quality sleep, so the next day begins with another set of poor food choices.
And so begins the downward spiral.
Time Warp
Clutter may also change our perception of time.
Being surrounded by stacks of paper, unopened mail, and general clutter tells our brains that there is too much to do. As a result, we feel overloaded and are more inclined to cancel meetings, skip the gym, or forego social appointments with friends and loved ones.
Clear and organized spaces on the other hand, help decrease this sense of overwhelm.
They make us feel we are in control and that we can tackle the day ahead much more effectively.
Nothing Works Until You Do The Work
This is all fascinating stuff, right?
And some of the neuroscience may have grabbed your attention.
But knowledge isn't power.
Applied knowledge, however, is a superpower.
So what are you going to do next and when will you do it?
What About Spring Cleaning Your Leadership Skills?
If you'd like to dust off your leadership skills so that you can successfully lead your team to deliver the results that you're accountable for, I have just the programme for you.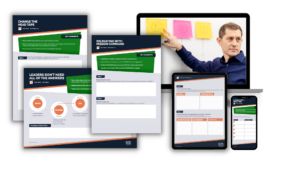 I've hand-crafted a new and improved version of my ever-popular 10-4-10 Leadership Programme to help you go from good to great as a leader. It's called The 10-4-10 Leadership Programme – Gold Edition.
If you're willing to put in some work and want to see excellent results, you can sign up for the programme here and receive a 50% discount using code spring50.
But hurry, there are just 100 discount codes available, and when they are gone, they're gone.
"Worth its weight in Gold

Rather than simply highlighting the issues and raising awareness, the programme goes the extra mile and you're provided with usable tools/strategies for bringing about lasting change."

Nick Warner
The world needs great leaders now more than ever.
Will you be one of them?

#LeadOn