10 Things To Spring Clean
Take a moment to think of all the spaces you spend time in.
Are they having a positive impact on your well-being and ability to focus?
Or does constantly hunting for your keys, seeing a large pile of unopened mail, and list incomplete tasks create a sense of anxiety and overwhelm?
One thing this all does for sure, is to waste one of our most precious commodities; time.
Less is More
We live in a world that seems obsessed with acquiring more stuff. But is it making us happier and more effective?
I think not.
And there seems to be a shift taking place as more of us realize that productivity, and possibly good mental health, come from having less stuff, not more.
Spring Cleaning for Leaders
I've written about the specific risks of not conducting a spring clean from a leadership and neuroscience perspective here, along with the tangible benefits of doing so.
So how do we do it?
I recommend a simple two-step process for spring cleaning.
Step One – Ditch, Bin, and Delete
The first step is to get rid of all the junk and clutter. Whether it's old paper files, unwanted cables, computer files, or clothes, ruthlessly get rid of the clutter.
Step Two – Organise
It's now time to get organised.
Create your new structure for sorting, filing, and storing the things you've decided to keep so they can be easily accessed when needed.
Do this by focusing on items, not locations. For example, pull out all your old files, brochures, manuals, etc., and get them in one place.
From here, you can re-organize and file more logically.
What to Spring Clean
Here are ten things – or locations – to consider giving a good old clean-up!
Work bag
Home office/workspace
Computer files
Files and folders in your email provider
Your 'drawer of death'. (We all have one; that draw that is stuffed so full of cables and junk that you can hardly open it.)
Personal email inbox
Finances. Check those recurring subscriptions for products and services you never use!
PC Desktop
Your leadership skills
The Apps on your Smartphone
Spring Cleaning Your Leadership Skills
Having cleaned out some physical and mental space, it's time to refill those places with things that ARE going to make a difference!
If you'd like to dust off your leadership skills so that you can successfully lead your team to deliver the results that you're accountable for, I have just the programme for you.
I've hand-crafted a new and improved version of my ever-popular 10-4-10 Leadership Programme to help you go from good to great as a leader. It's called the 10-4-10 Leadership Programme | Gold Edition.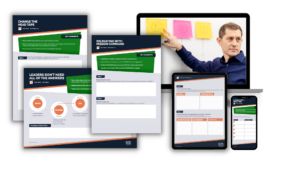 If you're willing to put in some work and want to see excellent results, you can sign up for the programme here and receive a 50% discount using code spring50.
But hurry, there are just 100 discount codes available, and when they are gone, they're gone.
What people are saying about THIS course.
"Game-changing leadership support delivered in a practical and easy to absorb way.
I've loved completing this excellent on-line leadership programme from Ben. There were so many nuggets of absolutely brilliant advice, coupled with super-useful tools and templates."
Rob Peacock